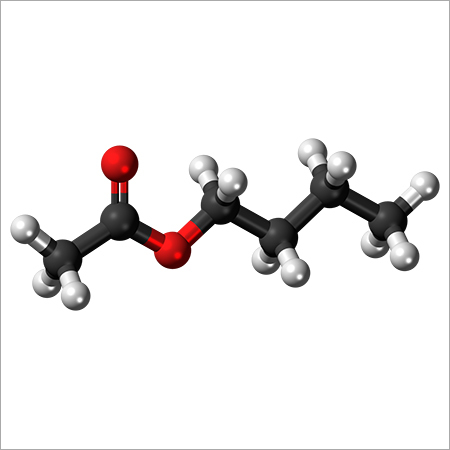 Butyl acetate 3D ball
Price And Quantity
Container/Containers

40.00 - 50.00 USD ($)
Product Description
N-Butyl Acetate
Product Description
Our n-butyl acetate solvent is being offered for negative photoresist formulations. Solvent systems are necessary in the process for spin coating photosensitive (photoresist) materials evenly onto a silicon wafer. This coating process is followed by drying and pattern development by lithographic processes. The multilayered patterns form integrated circuits on the semiconductor chips.
High-purity (low trace metals) specifications are required for the solvents to make acceptable semiconductor chips, and special handling and storage procedures are used to maintain the high-purity specifications. Also, special analytical tests are used to measure selected critical trace metals in parts-per-billion levels.
Applications:
The most common use of Normal Butyl Acetate is as a solvent in the production of lacquers and paints. Its other major use is in the production of adhesives and hardened coatings. Normal Butyl Acetate is also used in the pharmaceutical industry as a solvent or an extraction agent. Its minor uses include cosmetic products, fragrance solvent in perfumes, as an anti-corrosive agent, in cleaning and car care products.
Test Description

Test results

Unit of measure

Test method




Minimum

maximum







Appearance

Clear

Liquid




Visual

Purity

99.2




% Wt.

GC

N-butanol content




0.5

% Wt.

GC

Color




10

PT/CO

ASTM D1209

Water Content




0.05

%Wt.

ASTM D1364

Density @ 200 C

0.880

0.883




ASTM D4052

Acidity and acetic acid




0.005

% Wt.

ASTM D1045

Distillation













IBP

124







ASTM D1078

DB




128




ASTM D1078

Residue on evaporation




0.002

% Wt.

ASTM D1353